About Us
MSME-Development & Facilitation Office, Karnal
---
MSME-DFO Karnal, is a field office of Ministry of Micro Small and Medium Enterprises, Government of India.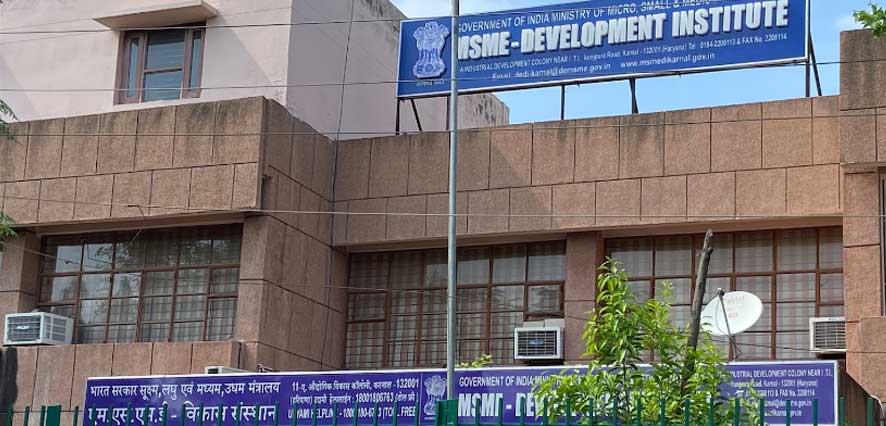 MSME-Development & Facilitation Office,
Karnal

The MSME - Development & Facilitation Office, Karnal (Formerly known as MSME - Development Institute, Karnal) was established on and formerly known as the state's principal MSME - Development & Facilitation Office, is a subordinate office of Nirman Bhavan's Development Commissioner (MSME). It serves the promotional and developmental needs of the Micro, Small, and Medium Enterprise Sector in 21 districts (Faridabad is under the jurisdiction of MSME-DFO, Delhi) across the state, as mentioned in the jurisdiction list. The office works closely with the state industries department, financial institutions, nonprofit organizations, and other organizations involved in the development of Micro, Small, and Medium Enterprises in Haryana.

It supports the developmental efforts of the agencies by:-


Advising the Government in policy formulation for the promotion and development of MSMEs.
Providing techno-economic and managerial consultancy, common facilities and extension services to MSMEs.
Providing facilities for technology upgradation, modernisation, quality improvement and infrastructure.
Developing Human Resources through training and skill upgradation.
. Providing economic information services.
MSME-DFO Karnal is mandated to carry out its developmental activities in all districts:
Branch Bhiwani Office
---
Br. MSME- Development & Facilitation Office, Bhiwani was established in 1975, as branch office of MSME DFO Karnal, also acting as field office of the Development Commissioner (MSME), Ministry of Micro, Small & Medium Enterprises, Govt. of India New Delhi.
Br.MSME-DFO Bhiwani provides consultancy/support services for promotion and implementation of the Schemes of MSME, as well as coordinates and organize programmes for the development and promotion of the MSME Sector in Bhiwani and nearby areas allotted to Br.MSME-DFO, Bhiwani office by MSME-DFO Karnal which covers MOHINDERGARH, ROHTAK,CHARKHI DADRI, BHIWANI, HISAR and SIRSA.
This office provides assistance/Consultancy to Prospective Entrepreneurs as well as existing Entrepreneurs. Coordinates with DICs, District MSME Centre, Financial institutions and also establishes Linkage with State Govt. Functionaries. Provides awareness for Implementation of DC(MSME) Schemes. And other action plan activities assigned by Headquarter.
Br.MSME-DFO, Bhiwani also addresses the grievances received on SCCR portal, For any queries and grievance registration kindly follow the below mentioned Link Click here
Districts and their Nodal Officer
---
MSME-DFO Karnal alongwith the branch office, Bhiwani is mandated to carry out its developmental activities in all districts: